Mechanism of Action Studies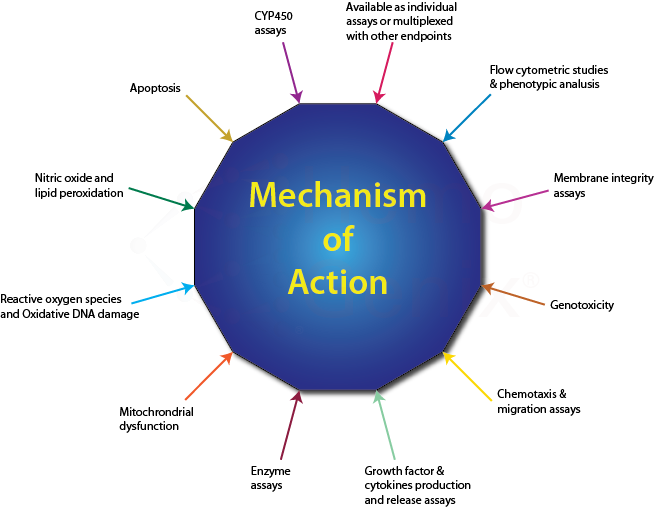 Mechanism of Action (MOA) studies are integral to understanding the how, why, where and when of a compound response. HemoGenix® combines its expertise in predictive tissue and organ toxicity testing with MOA studies that help indicate where the compound is acting, how and when it is acting and why the cells are responding in such a way.
For more information on MOA services, please contact HemoGenix® at info@hemogenix.com or call (719) 264-6250. These services are also available through Science Exchange.
FloDiff™: Membrane expression marker detection, cell cycle, ploidy, apoptosis (depends on the species and cell markers available).
Membrane integrity: LDH and/or PI assays.
Micronucleus assay.
Soft agar assay.
Chemotaxis/ migration assays.
GFkine™: Growth factor/cytokine production/release.
Phospodiesterase assays.
Kinase assays.
Protease assay.
P-Glycoprotein assay.
Monoamine oxidate assay.
UDPglucuronosytransferase (UGT) assay.
Mitochondrial ToxGlo™: Mitochondrial dysfunction assay.
Glutathione Assay: Oxidative stress.
Nitric oxide (NO) assay
Lipid peroxidation assay
Reactive oxygen species assays
OxyFLOW™: A flow cytometric oxidative DNA damage assay.
Biochemical apoptosis assays: CaspaseGlo™.
Cytochrome P450 assays.
Cellular drug-drug interaction studies.