In Vitro Neurotoxicity Contract Services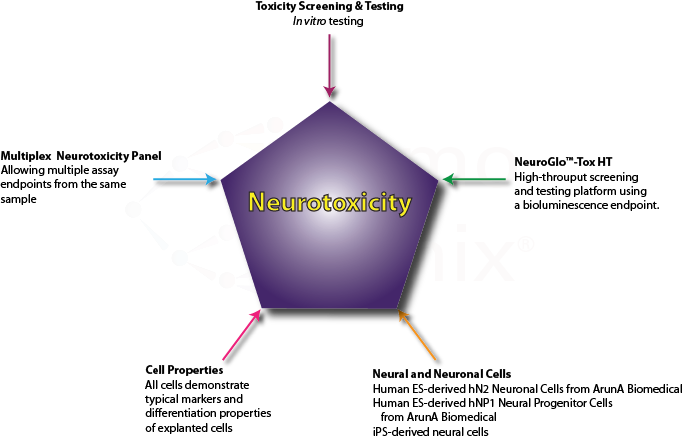 For more information on neurotoxicity services, please contact HemoGenix® at info@hemogenix.com or call (719) 264-6250. These services are also available through Science Exchange.
In vitro assay platform using human ES-derived hNP1 Neural Progenitor Cells or hN2 Neuonal cells for in vitro neurotoxicity testing.
Incorporates the most sensitive ATP bioluminescence readout available to measure proliferation, cytotoxicity, cell number and even apoptosis.
NeuroGlo™-Tox HT is a calibrated and fully standardized assay platform allowing results to be compared over time.
NeuroGlo™-Tox HT incorporates specific neural growth media.
High-throughput capability using 96- or 384-well plate formats allows ADME-Tox drug or compound screening, thereby significantly reducing unexpected results during pre-clinical testing.
2D and 3D stem cell culture and high throughput toxicity testing capability.
Results usually within 7 days.
Validated readout according to FDA Bioanalytical Method Guidelines.
Designed for multiplexing with other assay using the same sample (see below).
A 3Rs Assay Platform-Helps Reduction, Refinement, Replacement for animal testing.
hNP1 ES-Derived Neural Cells for Toxicity Testing
Human ES (H9, WA09)-derived Neural Progenitor Cells
Feeder-free
Serum-free growth
Stable, diploid karyotype Adherent, proliferating cell line
Proneural markers: >90% Nestin and Sox 2 positive
Embryonic marker: <5% Oct-4
Phenotypic differentiation potential:

Dopaminergic cells
Cholinergic cells
Glutametergic cells
GABA-ergic cells
Serotonergic cells
Astrocytic cells 
NeuroGlo™-Tox HT Multiplexing Capability
Membrane integrity: LDH and/or PI
Biochemical apoptosis assays: Caspases
FloDiff™: Cell cycle and apoptosis
OxyFLOW: Oxidative DNA Damage
Oxidative stress: GSH
Mitochondrial dysfunction: Mitochondrial ToxGlo™