In Vitro Hepatotoxicity Testing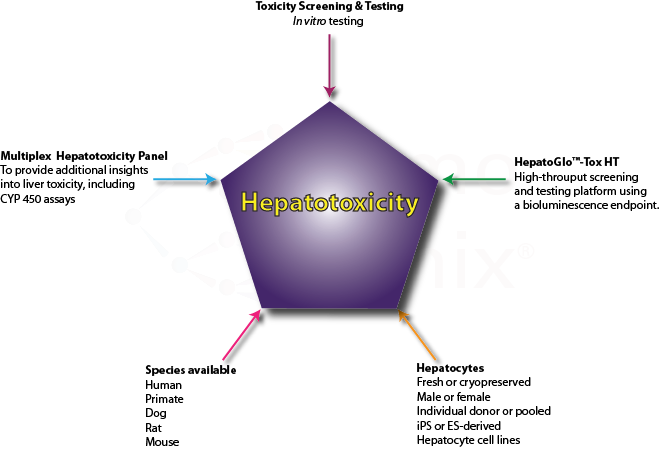 For more information on hepatotoxicity texting, please contact HemoGenix® at info@hemogenix.com or call (719) 264-6250. Hepatotoxicity testing services are also available on Science Exchange.
Hepatocytes produce high concentrations of intracellular ATP (iATP) due to their high metabolic activity. Changes in iATP concentration directly correlate with cellular and mitochondrial integrity and cytotoxicity.
Both primary and iPS-derived hepatocytes can be used with HepatoGlo™-Tox HT.
HepatoGlo™-Tox HT incorporates a validated ATP bioluminescence readout to measure hepatotoxicity.
HepatoGlo™-Tox HT is a calibrated and standardized assay platform that allows results to be directly compared between different drugs, hepatocyte sources and species over time.
High-throughput capability using 96- or 384-well plate formats allows ADME-Tox drug or compound screening, thereby significantly reducing unexpected results during pre-clinical testing.
Incorporates specialized HepatoGro™ medium and culture protocols.
2D and 3D hepatotoxicity models available.
Hepatotoxicity contract studies can be performed using different oxygen tensions that simulate different conditions and areas in the liver.
Available for adherent or non-adherent cell populations.
HepatoGlo™-Tox HT can be used to investigate cellular drug-drug interactions or multiplexed with CYP450 studies at the sub-cellular level.
Incorporates the most sensitive ATP bioluminescence readout available.
Incubation times: Usually 4-24 hours.
Turnaround time: Usually within 1-3 days.
Validated assay readout according to FDA Bioanalytical Method Guidelines.
Designed for multiplexing with other assays using the same sample thereby allowing multiple and liver-specific readouts.
A 3Rs Assay Platform-Helps Reduction, Refinement, Replacement of animal testing.
Hepatocyte Sources for HepatoGlo™-Tox HT
Fresh
Cryopreserved
Male
Female
Individual or pooled
ES- and/or iPS-derived
Hepatocyte cell lines e.g. HepG2
Species Available for Use with HepatoGlo™-Tox HT
Human
Non-human primate
Dog
Rat
Mouse
Assays that can be Multiplexed with HepatoGlo™-Tox HT
Cytochrome P450 enzyme assays.
Cellular drug-drug interaction assays.
Membrane integrity: LDH or PI dye exclusion.
Apoptosis: Biochemical caspase detection.
Mitochondrial dysfunction: Mitochondrial ToxGlo™
Glutathione Assay (GSH): Oxidative stress.
OxyFLOW™: Oxidative DNA damage.